This blog shows you how to lock your Facebook Profile in Pakistan or any other country. You can easily lock your profile on Facebook in a few simple steps. When ones lock a Facebook profile only his Facebook friends can see the content. This feature is built for profile privacy.
Facebook Profile Lock in Pakistan
Meta (parent company of Facebook) adds daily new features in Facebook. Recently they launched to lock facebook profiles in various countries. The Facebook account lock feature was previously available in beta mode but now this feature has been launched officially for all Facebook users. The full-size version of your profile picture and cover photo will only be visible to your friends.
Some people use Vpn to lock their profile. Now you don't need to use any trick to lock your profile. Facebook has officially launched this feature across the world. Today, I am going to show you step by step method to lock your Facebook profile in Pakistan. This method is also working in all countries.
Moreover, you can also read other articles by which you can increase Facebook page likes and monetize your Facebook page in Pakistan.
How to Lock Facebook Profile in Pakistan
You will learn how to lock facebook profile in Pakistan or any other country.
Lock Facebook Profile on Mobile:
If you are using Mobile then you can follow the simple steps below.
Step 1
Login to your account on the Facebook app
Step 2
Now, head to the "hamburger icon" and then tap on the "Settings" icon.
Step 3
From the profile control preference tap on "Profile settings".
Step 4
On the next screen, under Privacy select "Profile locking".
Step 5
Now it will ask you if you want to lock your profile. Here, you need to tap on "Lock your profile".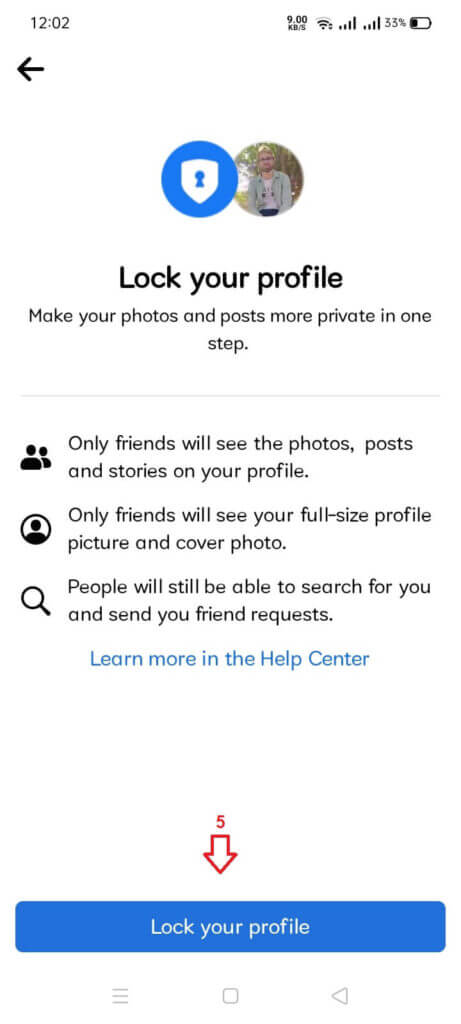 Congratulation you have successfully locked your profile!
Lock Facebook Profile on PC
If you are a Laptop or PC user then you need to follow the simple steps given below.
Step 1
Open any browser and Log In to www.facebook.com.
Step 2
Now, go to your main profile page.
Step 3
Here, click on the "hamburger icon" and select "Lock profile".
Step 4
In the pop-up window, click "Lock your Profile".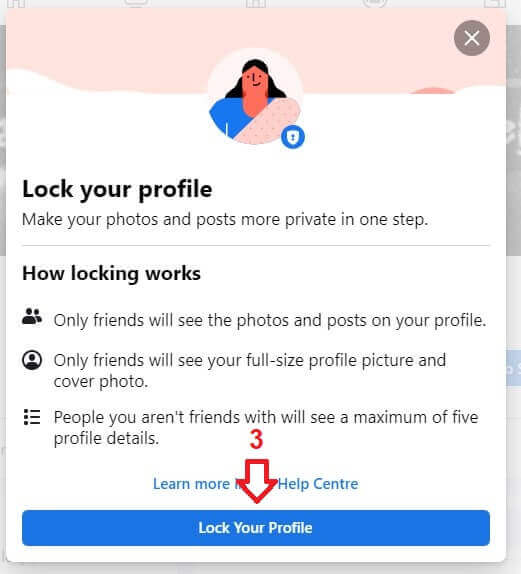 Your Facebook profile is successfully locked and your default public post share option is set to friends only.
Easiest way to Lock Your FB Profile via Mobile App or Desktop
Here is the easiest method by which you can lock your Facebook profile via Mobile or PC.
Step 1
Log In to your Facebook account on your mobile app or PC
Step 2
Now, you have to visit the profile of any user whose Facebook profile is already locked
Step 3
Here, click on the "Learn more" icon
Step 4
In the new window, simply click "Lock your profile".
Your Facebook profile is now locked and only friends would be able to see your posts
What happens if you Lock Profile on Facebook
Lock profile is the best feature to maintain your privacy. If you don't want to share your posts and stories with strangers then this feature can help you to manage your privacy. People who are not your friends cannot see profile picture and cover photos. They even can't watch the newsfeed of your Facebook account. You can remove inactive facebook friends by following this method too.
What does it mean when you lock your Facebook profile?
When we lock our profile then no body other than our friends will be able to see or download profile picture. They can not even see your newsfeed.
Can I still lock my Facebook profile 2022?
Yes, you can lock profile in 2022 as this feature is officialy launched.
What country can lock FB profile 2022?
Previously lock facebook profile was in beta mode. Only some countries can use this feature but now it is available across the globe. You can use this anywhere in the world.
How do I lock my Facebook profile on Chrome?
By following the above method you can easily avail this functionality.
Who can I see a locked profile?
Only his/her friends can see lock profile posts and feeds. Once you become the friends then there is no restrictions.
Conclusions:
I  hope this guide helped you how to lock facebook profile in Pakistan via Mobile or PC. You should share this useful information with your Facebook friends so they can also secure their information on Facebook.
If you still have doubts, I will be here to assist you 😉. You can contact me on my facebook and Linked In too.